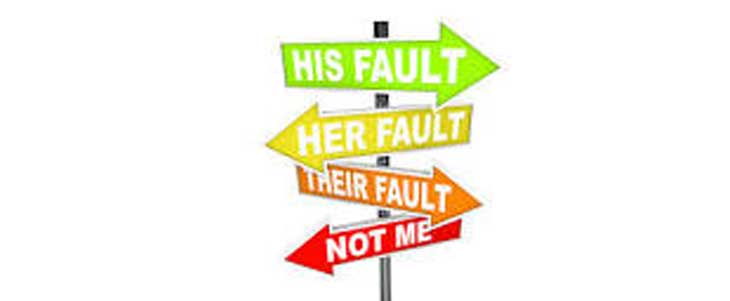 PERSONAL ACCOUNTABILITY


When we are part of a team, as a team player, we all have a role as well as responsibilities to fulfill. These are very important, and they all contribute to the success of our team.
Attaining team objectives becomes possible when " ALL" play together to win, and when " ALL" take responsibility for the entire teams' results. The synergy between the team players is primordial! When results are not attained it is not only one team player who loses but the entire team! Personal accountability begins with oneself.
What ever happened to personal accountability?
Why does it seem like the only thing people can do is point the finger and blame someone or something for their problems, their actions, and their emotions?
Anecdote:
One day, after filling up at a gas station, I decided to buy a cup of coffee. I went into the gas station and found that the coffeemaker was empty. I mentioned this to a clerk who was standing right in front of me. He pointed to another employee, who was a few steps away, and said, " Coffee is his department!"
Department? In a gas station the size of my living room?
Have you ever heard these questions?
- When will this department start doing its job?
- Who dropped the ball?
- Why don't they communicate properly?
- Why do we always have to go through all of these changes?
- When will they take the time to train me?
Questions are often statements in disguise.
Even if these questions seem innocent enough, they all reveal a lack of personal responsibility.
Lack of responsibility is at the root of many problems we face each day.
WORKING TOGETHER, IN PERFECT SYNERGY


When a team works in perfect synergy no threat is perceived in the capacities of another, thus no need for surveillance or at times spying which are both related to "jealousy".
In case of conflict, the teams' Coach will keep his or her distances and will dissociate the individuals from the conflict or from the problem that arises and will concentrate on the interests and preoccupations of others instead of remaining steadfast in one's own position and perception. Together, we can find synergistic solutions that are in general, a lot better then the original proposals, and thus, thanks to compromises in which each party " gives" and " receives".
A powerful synergy is manifested when all chose to let go of absolutely wanting to be right, and when all are ready to listen and understand the perception of others while also being ready to commit to a new perception and solution that is beneficial to all.
" Together" we can create a new solution which will benefit everyone!


Become a member of my
Facebook page
and stay on top of new activities and articles!
Become a member of our
Facebook Group: Les Leaders de Coeur
Get information on the new fall-winter 2023 upcoming training programs