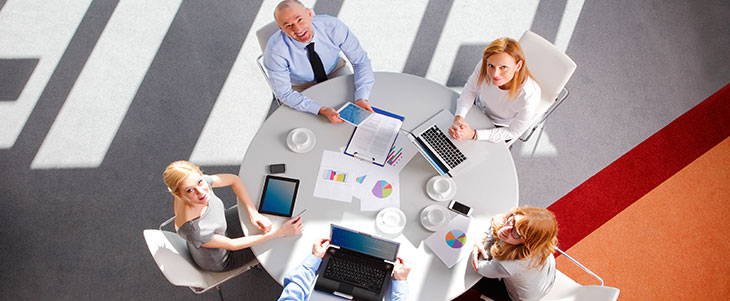 7th Characteristic: " Unleashing Potential"

Empowering your Employees through Growth, Development, and Training.

Your human resources represent the biggest asset of your organization. They have a direct link with your Company's productivity and profitability. Therefore, they represent your biggest and most important investment.
The training and the development of your employees are of critical importance. With today's major shortages in the workplace the pools containing talent and quality personnel are becoming smaller and harder to find. Therefore, it is of utmost importance to keep our talented employees within our organizations and fulfill their constant need to learn, grow and be given access to new opportunities within their workplace.
Your human ressources represent your biggest and most important investment

Investing in your human resources is investing in your Company's growth and success. Investing in the training and development of your employees means you are investing directly in the growth and the productivity of your business. Too often, training is seen as an expense instead of as an investment! You can invest in the best equipment or technologies that your industry has to offer, however, if you do not invest in the talent which resides under your roof, you risk not being able to utilize the equipment or different technologies in the most efficient manner.
This new generation of workers love new challenges


Finding quality and talented workers is becoming more and more difficult. The present challenge is that once we have found the right people, keeping them is another issue. This new generation love challenges, they want to grow and experience new opportunities. Why not make sure that they can grow within your organization?
Before seeking for new employees to fill certain openings and positions within your Company, it is of utmost importance that you verify if you have at hand employees who have the potential to fill these newly opened positions. This is verifiable thanks to assessment tools that can measure the abilities and competencies as well as attitudes and behavioral patterns.
Hire good attitudes and behaviors and train the rest!


Why? Because 98% of terminations are due to attitudes and behaviors! So why not measure and become aware of these factors prior to hiring or before offering a new position and new responsibilities to one of your actual employees?
These verifications are not only beneficial for the employer but also for the employee. These results will confirm if this person could possibly fill that position and take on these new responsibilities. Once confirmed, it is then also important, to supply the tools and training, as well as all of the necessary resources ensuring that these employees can fulfill their new tasks and responsibilities successfully.
Investing in talent ensures a winning situation for all parties concerned. You are also investing in the productivity and profitability of your organization.
Your good employees want to grow, want to be part of new projects, and learn new technologies. If you do not give them the opportunity to perfect their competencies it is certain that they will be searching for Companies that will allow them to grow and improve their experience and expertise.
Taking good care of your human resources ensures the sustainability of your organization.