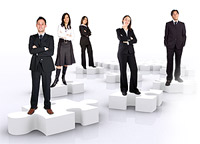 * reference: surveys done by McKinsey september 2021


How can you include your employees when working on your employee " attraction" and " retention" strategies?
Il it most beneficial for organizations to include and listen to their employees feedback when looking for new solutions and strategies in order to increase retention within their workforce, and to be more effective at attracting new talent within the Company. Many surveys have confirmed that executives and leaders are not listening to their people. Do not become one of these executives.
Here are a few questions that will enable you to see clearly which areas of your organization require some improvements:

Do you harbor toxic leaders?


Leaders who do not value their employees can be the root cause for the departure of talented members who chose to leave their organization. Many leave whether they have a new job lined up or not. If you do not have within your organization team leaders that motivate and inspire their teams, while also being capable of compassion when a situation requires it, you need to find these type of leaders very quickly!
Do you have the right people in the right places ( especially managers)?

Following a survey many employers reported that they have the right people but not necessarilty in the right positions. When it comes to team leaders, this problem can cause a lot of dammage especially in " hybrid" environments that require very good and strong leadership skills. Coaching, training and capability building becomes crucial for managers and executives who did not come from hybrid and virtual environments.
How strong was the organization's culture before the pandemic?


Like many executives, do you see a return to the office as a remedy or a solution to an already deficient company culture as far as interpersonal relationships and communication issues are concerned? Or do you prefer a full return to the office because you miss it yourself (absence makes the heart grow fonder)?
It is important to remember that your employees needs have greatly changed and that possibly your organizations' culture has not evolved or adapted to this new reality. All of the company's weaknesses that were already present before the pandemic, have only become more and more present and apparent. Employees are a lot less tolerant and definitely do not want to return to a status quo that they disliked to begin with.
Is your work environment strictly transactional?


If the only solution that's been so far implemented consists of raising compensations in order to minimize the departures of talented employees, you are sending out a message to your team players that the relationship is strictly transactional and that their only motivation and reason to stay with you is their paycheck. Keep in mind your talented employees will always have better offers elsewhere. You want to solve the problems of the whole person ( not just their bank accounts) as well as their work environment.
Are your group benefits aligned with your employees true needs and priorities?


Free parking or entertainment-related perks are not at the top of your employees priority list at this present time. Following survey results that was done amongst employees that had quit their jobs, 45% cited that taking care of their families was the most important factor that had a direct influence on their decision. A very similar proportion of people who are presently thinking of quitting their jobs will be doing so for this very same reason.
The increasing demand for daycare services, at home nursing services, and many other home-and family-focused benefits, could make a huge difference in keeping your talented employees while also showing how much you value them as a whole person. Patagonia, has become the leader and standard-bearer for their progressive workplace policies, they presently retain almost 100% of their new moms with on-site childcare as well as many other benefits for parents.
Employees are looking for career paths and development opportunities. Can you provide these?


Employees are looking for positions that will offer them better and stronger career paths. They desire both recognition and development. Innovative companies find ways to acknowledge and reward their team players by offering them new positions or the possibility of attaining additional and higher levels within their existing ones. Here are a few examples of organizations that have found ways of rewarding employees for their good work. " Waffle House" famously offers three levels for grill positions, which at other companies there is only one role. Entry-level cooks are " grill operators", more experienced cooks " master grill operators", and the best cooks are know as " rock star grill operators".
Are you building a community culture?


Remote work is no panacea, nor is a full on-site return. Interpersonal contact with work colleagues remains beneficial for your organization, but will require considerable attention from management in order to find a fine balance while also keeping an eye on sanitary, health and safety regulations that are constantly changing and evolving, as well as the employees needs and expectations that are also definitely changing.
As an example, parents with unvaccinated children feel very insecure and unsafe in large in-person gatherings. Therefore, one organization encourgaged connectivity among employees by offering coffee gift cards to those who signed up to participate in one-on-one "coffee chats" with different team employees. This initiative not only improved connectivity but helped their employees to expand their networks.
If you lead a large team or a company, remember this: The great "departures" crisis is real will continue, and will get worse before it gets better. Yet this unique moment also offers huge opportunities. Seize it, step back, listen, learn, and make the necessary changes that employees want and need.
Begin with a focus on the relational aspects of work that people have missed the most. By understanding why they are leaving and by acting thoughtfully , you may just be able to turn " The Great Departures" into " Great Attraction and Retention".